Psalms chapter 70 King James Version
1 To the chief Musician, A Psalm of David, to bring to remembrance. Make haste, O God, to deliver me; make haste to help me, O LORD.
2 Let them be ashamed and confounded that seek after my soul: let them be turned backward, and put to confusion, that desire my hurt.
3 Let them be turned back for a reward of their shame that say, Aha, aha.
4 Let all those that seek thee rejoice and be glad in thee: and let such as love thy salvation say continually, Let God be magnified.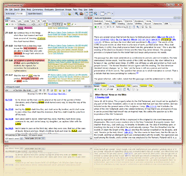 For a complete Scripture study system, try SwordSearcher Bible Software. Once you experience the swiftness and ease-of-use SwordSearcher gives you right on your own computer, combined with the most powerful search features available, you will never want to use the web to do online study again. Includes tens of thousands of topical, encyclopedic, dictionary, and commentary entries all linked to verses, fully searchable by topic or verse reference.
Also try Daily Bible and Prayer to design your own Bible reading programs and track your prayer list.
5 But I am poor and needy: make haste unto me, O God: thou art my help and my deliverer; O LORD, make no tarrying.