Psalms chapter 61 King James Version
1 To the chief Musician upon Neginah, A Psalm of David. Hear my cry, O God; attend unto my prayer.
2 From the end of the earth will I cry unto thee, when my heart is overwhelmed: lead me to the rock that is higher than I.
3 For thou hast been a shelter for me, and a strong tower from the enemy.
4 I will abide in thy tabernacle for ever: I will trust in the covert of thy wings. Selah.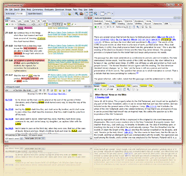 For a complete Scripture study system, try SwordSearcher Bible Software. Once you experience the swiftness and ease-of-use SwordSearcher gives you right on your own computer, combined with the most powerful search features available, you will never want to use the web to do online study again. Includes tens of thousands of topical, encyclopedic, dictionary, and commentary entries all linked to verses, fully searchable by topic or verse reference.
Also try Daily Bible and Prayer to design your own Bible reading programs and track your prayer list.
5 For thou, O God, hast heard my vows: thou hast given me the heritage of those that fear thy name.
6 Thou wilt prolong the king's life: and his years as many generations.
7 He shall abide before God for ever: O prepare mercy and truth, which may preserve him.
8 So will I sing praise unto thy name for ever, that I may daily perform my vows.