Psalms chapter 47 King James Version
1
To the chief Musician, A Psalm for the sons of Korah.
O clap your hands, all ye people; shout unto God with the voice of triumph.
2 For the LORD most high is terrible; he is a great King over all the earth.
3 He shall subdue the people under us, and the nations under our feet.
4 He shall choose our inheritance for us, the excellency of Jacob whom he loved. Selah.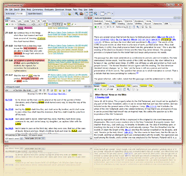 For a complete Scripture study system, try SwordSearcher Bible Software. Once you experience the swiftness and ease-of-use SwordSearcher gives you right on your own computer, combined with the most powerful search features available, you will never want to use the web to do online study again. Includes tens of thousands of topical, encyclopedic, dictionary, and commentary entries all linked to verses, fully searchable by topic or verse reference.
Also try Daily Bible and Prayer to design your own Bible reading programs and track your prayer list.
5 God is gone up with a shout, the LORD with the sound of a trumpet.
6 Sing praises to God, sing praises: sing praises unto our King, sing praises.
7 For God is the King of all the earth: sing ye praises with understanding.
8 God reigneth over the heathen: God sitteth upon the throne of his holiness.
9 The princes of the people are gathered together, even the people of the God of Abraham: for the shields of the earth belong unto God: he is greatly exalted.