Psalms chapter 43 King James Version
1 Judge me, O God, and plead my cause against an ungodly nation: O deliver me from the deceitful and unjust man.
2 For thou art the God of my strength: why dost thou cast me off? why go I mourning because of the oppression of the enemy?
3 O send out thy light and thy truth: let them lead me; let them bring me unto thy holy hill, and to thy tabernacles.
4 Then will I go unto the altar of God, unto God my exceeding joy: yea, upon the harp will I praise thee, O God my God.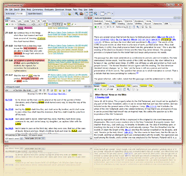 For a complete Scripture study system, try SwordSearcher Bible Software. Once you experience the swiftness and ease-of-use SwordSearcher gives you right on your own computer, combined with the most powerful search features available, you will never want to use the web to do online study again. Includes tens of thousands of topical, encyclopedic, dictionary, and commentary entries all linked to verses, fully searchable by topic or verse reference.
Also try Daily Bible and Prayer to design your own Bible reading programs and track your prayer list.
5 Why art thou cast down, O my soul? and why art thou disquieted within me? hope in God: for I shall yet praise him, who is the health of my countenance, and my God.