Psalms chapter 3 King James Version
1
A Psalm of David, when he fled from Absalom his son.
LORD, how are they increased that trouble me! many
are
they that rise up against me.
2 Many there be which say of my soul, There is no help for him in God. Selah.
3 But thou, O LORD, art a shield for me; my glory, and the lifter up of mine head.
4 I cried unto the LORD with my voice, and he heard me out of his holy hill. Selah.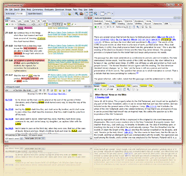 For a complete Scripture study system, try SwordSearcher Bible Software. Once you experience the swiftness and ease-of-use SwordSearcher gives you right on your own computer, combined with the most powerful search features available, you will never want to use the web to do online study again. Includes tens of thousands of topical, encyclopedic, dictionary, and commentary entries all linked to verses, fully searchable by topic or verse reference.
Also try Daily Bible and Prayer to design your own Bible reading programs and track your prayer list.
5 I laid me down and slept; I awaked; for the LORD sustained me.
6 I will not be afraid of ten thousands of people, that have set themselves against me round about.
7 Arise, O LORD; save me, O my God: for thou hast smitten all mine enemies upon the cheek bone; thou hast broken the teeth of the ungodly.
8 Salvation belongeth unto the LORD: thy blessing is upon thy people. Selah.