Psalms chapter 138 King James Version
1 A Psalm of David. I will praise thee with my whole heart: before the gods will I sing praise unto thee.
2 I will worship toward thy holy temple, and praise thy name for thy lovingkindness and for thy truth: for thou hast magnified thy word above all thy name.
3 In the day when I cried thou answeredst me, and strengthenedst me with strength in my soul.
4 All the kings of the earth shall praise thee, O LORD, when they hear the words of thy mouth.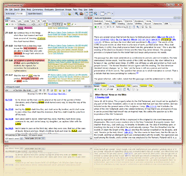 For a complete Scripture study system, try SwordSearcher Bible Software. Once you experience the swiftness and ease-of-use SwordSearcher gives you right on your own computer, combined with the most powerful search features available, you will never want to use the web to do online study again. Includes tens of thousands of topical, encyclopedic, dictionary, and commentary entries all linked to verses, fully searchable by topic or verse reference.
Also try Daily Bible and Prayer to design your own Bible reading programs and track your prayer list.
5 Yea, they shall sing in the ways of the LORD: for great is the glory of the LORD.
6 Though the LORD be high, yet hath he respect unto the lowly: but the proud he knoweth afar off.
7 Though I walk in the midst of trouble, thou wilt revive me: thou shalt stretch forth thine hand against the wrath of mine enemies, and thy right hand shall save me.
8 The LORD will perfect that which concerneth me: thy mercy, O LORD, endureth for ever: forsake not the works of thine own hands.