Psalms chapter 130 King James Version
1
A Song of degrees.
Out of the depths have I cried unto thee, O LORD.
2 Lord, hear my voice: let thine ears be attentive to the voice of my supplications.
3 If thou, LORD, shouldest mark iniquities, O Lord, who shall stand?
4 But there is forgiveness with thee, that thou mayest be feared.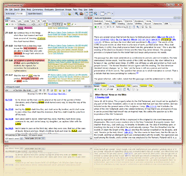 For a complete Scripture study system, try SwordSearcher Bible Software. Once you experience the swiftness and ease-of-use SwordSearcher gives you right on your own computer, combined with the most powerful search features available, you will never want to use the web to do online study again. Includes tens of thousands of topical, encyclopedic, dictionary, and commentary entries all linked to verses, fully searchable by topic or verse reference.
Also try Daily Bible and Prayer to design your own Bible reading programs and track your prayer list.
5 I wait for the LORD, my soul doth wait, and in his word do I hope.
6 My soul waiteth for the Lord more than they that watch for the morning: I say, more than they that watch for the morning.
7 Let Israel hope in the LORD: for with the LORD there is mercy, and with him is plenteous redemption.
8 And he shall redeem Israel from all his iniquities.