Psalms chapter 129 King James Version
1
A Song of degrees.
Many a time have they afflicted me from my youth, may Israel now say:
2 Many a time have they afflicted me from my youth: yet they have not prevailed against me.
3 The plowers plowed upon my back: they made long their furrows.
4 The LORD is righteous: he hath cut asunder the cords of the wicked.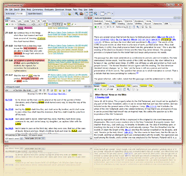 For a complete Scripture study system, try SwordSearcher Bible Software. Once you experience the swiftness and ease-of-use SwordSearcher gives you right on your own computer, combined with the most powerful search features available, you will never want to use the web to do online study again. Includes tens of thousands of topical, encyclopedic, dictionary, and commentary entries all linked to verses, fully searchable by topic or verse reference.
Also try Daily Bible and Prayer to design your own Bible reading programs and track your prayer list.
5 Let them all be confounded and turned back that hate Zion.
6 Let them be as the grass upon the housetops, which withereth afore it groweth up:
7 Wherewith the mower filleth not his hand; nor he that bindeth sheaves his bosom.
8 Neither do they which go by say, The blessing of the LORD be upon you: we bless you in the name of the LORD.