Psalms chapter 125 King James Version
1
A Song of degrees.
They that trust in the LORD
shall be
as mount Zion,
which
cannot be removed,
but
abideth for ever.
2 As the mountains are round about Jerusalem, so the LORD is round about his people from henceforth even for ever.
3 For the rod of the wicked shall not rest upon the lot of the righteous; lest the righteous put forth their hands unto iniquity.
4 Do good, O LORD, unto those that be good, and to them that are upright in their hearts.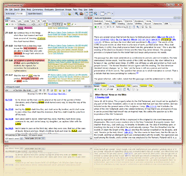 For a complete Scripture study system, try SwordSearcher Bible Software. Once you experience the swiftness and ease-of-use SwordSearcher gives you right on your own computer, combined with the most powerful search features available, you will never want to use the web to do online study again. Includes tens of thousands of topical, encyclopedic, dictionary, and commentary entries all linked to verses, fully searchable by topic or verse reference.
Also try Daily Bible and Prayer to design your own Bible reading programs and track your prayer list.
5 As for such as turn aside unto their crooked ways, the LORD shall lead them forth with the workers of iniquity: but peace shall be upon Israel.