Psalms chapter 122 King James Version
1
A Song of degrees of David.
I was glad when they said unto me, Let us go into the house of the LORD.
2 Our feet shall stand within thy gates, O Jerusalem.
3 Jerusalem is builded as a city that is compact together:
4 Whither the tribes go up, the tribes of the LORD, unto the testimony of Israel, to give thanks unto the name of the LORD.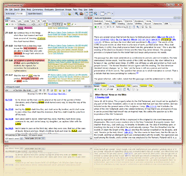 For a complete Scripture study system, try SwordSearcher Bible Software. Once you experience the swiftness and ease-of-use SwordSearcher gives you right on your own computer, combined with the most powerful search features available, you will never want to use the web to do online study again. Includes tens of thousands of topical, encyclopedic, dictionary, and commentary entries all linked to verses, fully searchable by topic or verse reference.
Also try Daily Bible and Prayer to design your own Bible reading programs and track your prayer list.
5 For there are set thrones of judgment, the thrones of the house of David.
6 Pray for the peace of Jerusalem: they shall prosper that love thee.
7 Peace be within thy walls, and prosperity within thy palaces.
8 For my brethren and companions' sakes, I will now say, Peace be within thee.
9 Because of the house of the LORD our God I will seek thy good.