Psalms chapter 114 King James Version
1 When Israel went out of Egypt, the house of Jacob from a people of strange language;
2 Judah was his sanctuary, and Israel his dominion.
3 The sea saw it, and fled: Jordan was driven back.
4 The mountains skipped like rams, and the little hills like lambs.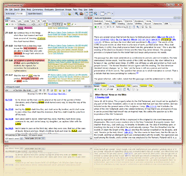 For a complete Scripture study system, try SwordSearcher Bible Software. Once you experience the swiftness and ease-of-use SwordSearcher gives you right on your own computer, combined with the most powerful search features available, you will never want to use the web to do online study again. Includes tens of thousands of topical, encyclopedic, dictionary, and commentary entries all linked to verses, fully searchable by topic or verse reference.
Also try Daily Bible and Prayer to design your own Bible reading programs and track your prayer list.
5 What ailed thee, O thou sea, that thou fleddest? thou Jordan, that thou wast driven back?
6 Ye mountains, that ye skipped like rams; and ye little hills, like lambs?
7 Tremble, thou earth, at the presence of the Lord, at the presence of the God of Jacob;
8 Which turned the rock into a standing water, the flint into a fountain of waters.