Psalms chapter 113 King James Version
1 Praise ye the LORD. Praise, O ye servants of the LORD, praise the name of the LORD.
2 Blessed be the name of the LORD from this time forth and for evermore.
3 From the rising of the sun unto the going down of the same the LORD'S name is to be praised.
4 The LORD is high above all nations, and his glory above the heavens.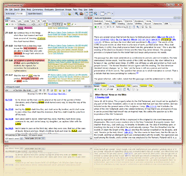 For a complete Scripture study system, try SwordSearcher Bible Software. Once you experience the swiftness and ease-of-use SwordSearcher gives you right on your own computer, combined with the most powerful search features available, you will never want to use the web to do online study again. Includes tens of thousands of topical, encyclopedic, dictionary, and commentary entries all linked to verses, fully searchable by topic or verse reference.
Also try Daily Bible and Prayer to design your own Bible reading programs and track your prayer list.
5 Who is like unto the LORD our God, who dwelleth on high,
6 Who humbleth himself to behold the things that are in heaven, and in the earth!
7 He raiseth up the poor out of the dust, and lifteth the needy out of the dunghill;
8 That he may set him with princes, even with the princes of his people.
9 He maketh the barren woman to keep house, and to be a joyful mother of children. Praise ye the LORD.