Psalms chapter 112 King James Version
1 Praise ye the LORD. Blessed is the man that feareth the LORD, that delighteth greatly in his commandments.
2 His seed shall be mighty upon earth: the generation of the upright shall be blessed.
3 Wealth and riches shall be in his house: and his righteousness endureth for ever.
4 Unto the upright there ariseth light in the darkness: he is gracious, and full of compassion, and righteous.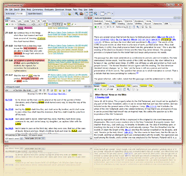 For a complete Scripture study system, try SwordSearcher Bible Software. Once you experience the swiftness and ease-of-use SwordSearcher gives you right on your own computer, combined with the most powerful search features available, you will never want to use the web to do online study again. Includes tens of thousands of topical, encyclopedic, dictionary, and commentary entries all linked to verses, fully searchable by topic or verse reference.
Also try Daily Bible and Prayer to design your own Bible reading programs and track your prayer list.
5 A good man sheweth favour, and lendeth: he will guide his affairs with discretion.
6 Surely he shall not be moved for ever: the righteous shall be in everlasting remembrance.
7 He shall not be afraid of evil tidings: his heart is fixed, trusting in the LORD.
8 His heart is established, he shall not be afraid, until he see his desire upon his enemies.
9 He hath dispersed, he hath given to the poor; his righteousness endureth for ever; his horn shall be exalted with honour.
10 The wicked shall see it, and be grieved; he shall gnash with his teeth, and melt away: the desire of the wicked shall perish.