Psalms chapter 111 King James Version
1 Praise ye the LORD. I will praise the LORD with my whole heart, in the assembly of the upright, and in the congregation.
2 The works of the LORD are great, sought out of all them that have pleasure therein.
3 His work is honourable and glorious: and his righteousness endureth for ever.
4 He hath made his wonderful works to be remembered: the LORD is gracious and full of compassion.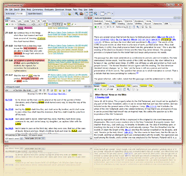 For a complete Scripture study system, try SwordSearcher Bible Software. Once you experience the swiftness and ease-of-use SwordSearcher gives you right on your own computer, combined with the most powerful search features available, you will never want to use the web to do online study again. Includes tens of thousands of topical, encyclopedic, dictionary, and commentary entries all linked to verses, fully searchable by topic or verse reference.
Also try Daily Bible and Prayer to design your own Bible reading programs and track your prayer list.
5 He hath given meat unto them that fear him: he will ever be mindful of his covenant.
6 He hath shewed his people the power of his works, that he may give them the heritage of the heathen.
7 The works of his hands are verity and judgment; all his commandments are sure.
8 They stand fast for ever and ever, and are done in truth and uprightness.
9 He sent redemption unto his people: he hath commanded his covenant for ever: holy and reverend is his name.
10 The fear of the LORD is the beginning of wisdom: a good understanding have all they that do his commandments: his praise endureth for ever.