Psalms chapter 110 King James Version
1
A Psalm of David.
The LORD said unto my Lord, Sit thou at my right hand, until I make thine enemies thy footstool.
2 The LORD shall send the rod of thy strength out of Zion: rule thou in the midst of thine enemies.
3 Thy people shall be willing in the day of thy power, in the beauties of holiness from the womb of the morning: thou hast the dew of thy youth.
4 The LORD hath sworn, and will not repent, Thou art a priest for ever after the order of Melchizedek.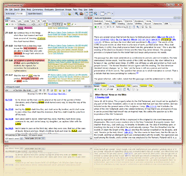 For a complete Scripture study system, try SwordSearcher Bible Software. Once you experience the swiftness and ease-of-use SwordSearcher gives you right on your own computer, combined with the most powerful search features available, you will never want to use the web to do online study again. Includes tens of thousands of topical, encyclopedic, dictionary, and commentary entries all linked to verses, fully searchable by topic or verse reference.
Also try Daily Bible and Prayer to design your own Bible reading programs and track your prayer list.
5 The Lord at thy right hand shall strike through kings in the day of his wrath.
6 He shall judge among the heathen, he shall fill the places with the dead bodies; he shall wound the heads over many countries.
7 He shall drink of the brook in the way: therefore shall he lift up the head.