Job chapter 25 King James Version
1 Then answered Bildad the Shuhite, and said,
2 Dominion and fear are with him, he maketh peace in his high places.
3 Is there any number of his armies? and upon whom doth not his light arise?
4 How then can man be justified with God? or how can he be clean that is born of a woman?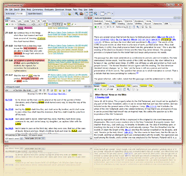 For a complete Scripture study system, try SwordSearcher Bible Software. Once you experience the swiftness and ease-of-use SwordSearcher gives you right on your own computer, combined with the most powerful search features available, you will never want to use the web to do online study again. Includes tens of thousands of topical, encyclopedic, dictionary, and commentary entries all linked to verses, fully searchable by topic or verse reference.
Also try Daily Bible and Prayer to design your own Bible reading programs and track your prayer list.
5 Behold even to the moon, and it shineth not; yea, the stars are not pure in his sight.
6 How much less man, that is a worm? and the son of man, which is a worm?