Hosea chapter 3 King James Version
1 Then said the LORD unto me, Go yet, love a woman beloved of her friend, yet an adulteress, according to the love of the LORD toward the children of Israel, who look to other gods, and love flagons of wine.
2 So I bought her to me for fifteen pieces of silver, and for an homer of barley, and an half homer of barley:
3 And I said unto her, Thou shalt abide for me many days; thou shalt not play the harlot, and thou shalt not be for another man: so will I also be for thee.
4 For the children of Israel shall abide many days without a king, and without a prince, and without a sacrifice, and without an image, and without an ephod, and without teraphim: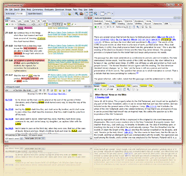 For a complete Scripture study system, try SwordSearcher Bible Software. Once you experience the swiftness and ease-of-use SwordSearcher gives you right on your own computer, combined with the most powerful search features available, you will never want to use the web to do online study again. Includes tens of thousands of topical, encyclopedic, dictionary, and commentary entries all linked to verses, fully searchable by topic or verse reference.
Also try Daily Bible and Prayer to design your own Bible reading programs and track your prayer list.
5 Afterward shall the children of Israel return, and seek the LORD their God, and David their king; and shall fear the LORD and his goodness in the latter days.